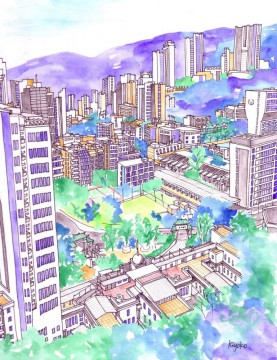 (rear view of Po Leung Kuk Museum保良局歷史博物館, Leighton Road, CWB 銅鑼灣禮頓道 / 2011 November 21, from the kitchen window of Kawai-san's flat)
I am now drawing the facade of Po Leung Kuk Museum.
As I used to live and work in New Territories (close to mainland China) since the end of 2006, Hong Kong Island was a distant place where I only go for Immigration or consulate matters. I even wanted to keep distance from the HK Island expat culture (it's quite…unique…).
But I have a lot of (good) memories around Causeway Bay from spring 2011 – Japanese Club drawin lessons, eating out with students, Japanese-speaking local hair salon, helping (little bit) of newly opened Japanese supplimentary school.
Initially I thought about staying in Hong Kong only for couple of years, so I (kind of arrogantly) thought I don't need or I don't have time to search for compatriots. Yes, I am working in foreign country, not using Japanese languege, I am international – that's what I felt even I didn't really articulate.
But maybe I could say so because I didn't really work hard to enjoy Hong Kong – e.g. to learn Cantonese and/or Putongha. I really admire non-Chinese speakers to acquire the tone-language and Chinese character reading and writing skills – and I thought I happened to be in HK for a short period of time.
In CWB, I could meet Japanese people who lives and works in HK for 10, 30, 50 years. They are fluent in Cantonese/Putongha, some married to Hong Kong or Chinese spouses, and connected deeply into local society. And, they respect Japanese culture and being Japanese much more than I did. I was almost ashamed all the more because I, a novice resident, was teaching Japanese culture and history to local students…
It was really meaningful for me to frequent CWB for three years!
香港のコーズウェイベイにある、保良局の絵を描いています(まだ載せられませんが…)。正面から白亜のドームを見あげる感じ、というご注文なので、背景のマンション群の窓300枚くらいをちまちま描く(というか紙面をペンの線で埋める)作業にわくわく武者震いしていたのですが、「周囲の建物群は全て取り除いて、空にして欲しい」とのことでした。
香港の風景を描く楽しさの一つは、「(描くのが割と得意な)建物の割合が多く、(描くのが苦手な)木々や空が少ない」という点なので(描くのが楽しいというだけで、人口超過密なコンクリートジャングルに田舎者の私が住んで楽しいというのとはまた違いますが)、「紙面の半分くらいが空と木々でありながら間延びせず構成する画力」の無さが際立ちそうで緊張します。
(特に水彩画で)風景画を描く人の多くは、空・木々・水面・太陽光をどう表現するかというの点に情熱が湧いているのだろうなと思います。
「でも、私は別にいいから」と開き直ってそこにホコリまで持って(自然のものを工夫して描くエネルギーは建物の絵の細密さ向上に使うのよドヤ的に)今までやって来ましたが、香港から京都に引っ越して絵を描いていると、日本の風景って空がほとんどだったりして(東京の建物風景ですらも、高い所から見下ろしている構図じゃない限り空が絶対にかなりの割合で入る)、今回も香港でありながらさすがに紙面の半分となると、もうちょっと努力しないといけないな時期かもしれません。
今週来週は自分と家族の健康診断や検査、その心配感を希釈するためにも絵を描きたいと思います。